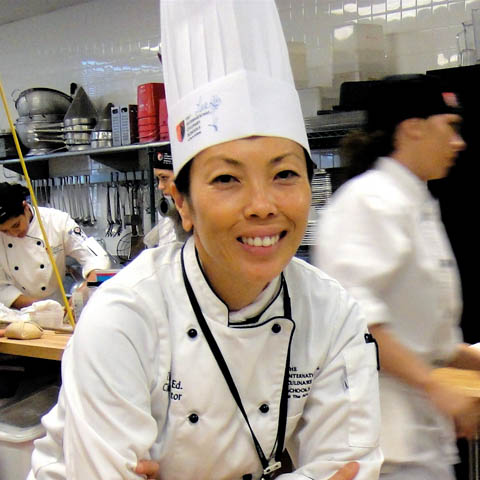 About Chef Luu
Chef Tina Luu, M.A.Ed. is a culinary arts educator who has taught for The International Culinary Schools at The Art Institutes and The Culinary Institute of the Pacific (a program of the University of Hawaii). She is a graduate of the California Culinary Academy (CCA) in San Francisco and worked in restaurants professionally since the age of 15; this life education helped pay for her academic education.
After graduating from the University of California, Santa Cruz with a bachelor of arts in psychology, she worked in management consulting for two years before deciding to pursue a career in the culinary arts. Chef Luu moved to San Francisco and landed at Bradley Ogden's One Market Restaurant as a line cook. Soon after, she enrolled into the AOS (Associates of Occupational Studies) program at CCA. She then went on to open Hawthorne Lane (San Francisco) and Jeremiah Tower's Stars Restaurant, Palo Alto as pastry assistant under Pastry Chef Donna Meadows. From there, she moved on to the intense kitchens of Aqua (San Francisco) and its sibling restaurant Charles Nob Hill (San Francisco) where she fine-tuned her culinary skills under Chef Michael Mina.
In 1996, Chef Luu was given the opportunity to travel to Asia to work with the three-month-old Stars Restaurant, Singapore. She spent two years in Singapore as pastry chef overseeing menus for both Stars Restaurant and Stars Café, as well as supplying pastries and fine baked goods to eight Spinelli Coffee Company retail outlets. During this time she traveled to destinations such as Indonesia, Thailand, Malaysia, and Vietnam exploring culture and cuisine. In addition, she has traveled extensively through Paris, Lyon, Madrid, Barcelona, London, Ireland, Scotland, Portugal and the Pays Basque of France and Spain. In 1998, she returned to the United States to open Stars Seattle at Pacific Place. She spent two years as pastry chef and sous chef of Stars Bar & Dining, Seattle where she and a highly skilled team of chefs produced their acclaimed Puget Sound cuisine.
From Seattle, Chef Luu got back to her California roots as executive pastry chef of the Sonoma Mission Inn and Spa, a four-star, four-diamond destination resort in the picturesque wine country of Northern California. There, she and her staff supplied the hotel, its multiple venues, and banquet facilities with pastries and desserts morning, noon, and night.
Chef Luu has consulted as pastry chef for Alan Wong's Restaurant on King Street in Honolulu, Hawaii; lectured on the fundamentals of baking and pastry for Culinary Institute of the Pacific—a program of the University of Hawaii; and contributed as writer and photographer for Gusto Magazine, a culinary lifestyle publication promoting eating, drinking, and living in Hawaii.
In 2002, Chef Luu made her way back home to San Diego, California and took a position as a chef-instructor at the newly opened campus of The Art Institute. Over the successive years, she and a faculty of like-minded culinary educators has helped shape a culinary arts program that has grown from an associates in culinary arts to associates and diploma programs in baking and pastry arts, as well as bachelors programs in culinary management.
Chef Luu is currently striving to put her years of industry experience and knowledge to work behind an issue that is near and dear to her heart: childhood nutrition and, specifically, our nation's school lunch programs.
She continues to be active in her community volunteering for events and programs involving Slow Food Urban San Diego, Rady Children's Hospital San Diego, San Diego Food Bank, ARTS, Passionfish, Scripps Institution of Oceanography, Cook's Confab, Just Call Us Volunteers, and Olivewood Gardens Learning Center. She also consults with culinary venues across the United States in all areas of pastry arts. In her spare time, she is a SuperDiner for the San Diego Union Tribune Night & Day column.
Master of Education (M.A.Ed.) • December 2006
Orange County, California; Highest Honors
Associate of Occupational Studies Degree, Culinary Arts • December 1994
San Francisco, California; Honors
Bachelor of Arts in Psychology • June 1992
Santa Cruz, California; College Honors
Culinary Educator, Lead Baking and Pastry Instructor • December 2002 to July 2015
Instruction of course material though lecture, demonstration, and hands-on lab work to fulfill required competencies on cooking and baking fundamentals. Taught and assisted in course development: CUL101, CUL102, and CUL103—Fundamentals of Cooking, Introduction to the Industry and Culinary Equiment. Fully developed class curriculum and complete documentation of new courses CUL121, CUL122 and CUL123—Introduction to Baking, Introduction to Pastry Arts, and The Art of the Plated Dessert. Developed class curriculum and lectured on course CUL204—Purchasing and Cost Control. In addition to class instruction, I assist in development and training of new faculty.
Guest Lecturer • Spring 2002
Leeward Community College Campus. Chef Instructor for FSER 62: Fundamentals of Baking and Pastry. Taught students the fundamentals of baking and pastry, covering basic baking principles, ingredients and their roles, plus production to cover competencies. Produced desserts for The Pearl Restaurant and pastries for the campus café. Competencies were met through production, and exams based on reading and lecture.
Pastry Chef • September 2001 to December 2001
A working consultation for Alan Wong's acclaimed King Street Restaurant. Managed a staff of three in production and presentation of desserts for nightly dinners of 150 to 200 covers with average desserts sales of 65%. Restuctured and reorganized the pastry kitchen, trained staff in efficient and systematic work methods, and outlined a program for incoming externs. Created weekly specials in addition to menu items as well as for "Next Generation Dinners." Responsible for production, training, scheduling, food cost, ordering and overall quality of desserts. Participate in functions to promote the restaurant and to aid in community service.
Executive Pastry Chef • July 2000 to July 2001
Oversaw a staff of four in supplying pastries and desserts to 220-room, Mobil Four Star, Four Diamond spa-resort catering to four venues plus high volume banquets (breakfast, lunch and dinner). Special menus daily for high-end restaurant and weekly wine dinners. Worked closely with Chef on promotional events. Responsible for production, training, scheduling, food cost, inventory and overall quality of desserts and baked goods.
Executive Pastry Chef, Sous Chef • June 1998 to July 2000
Opened restaurant with pastry staff of six and kitchen staff of 45 for 225 seats. Oversaw operations of the kitchen with focus on pastry while adhering to food quality, consistency, food cost and labor cost. Wrote, cost and implemented seasonally changing dessert menus. Assisted Executive Chef in writing and implementing savory menus. Trained, supervised and worked prep, production and service of a 13-item dessert menu. Produced all desserts for special events, wine dinners and catering. Worked closely with the service staff to hit a targeted sales goal of 50% for desserts. Also responsible for scheduling, inventory and overall food quality. Promoted Stars Bar & Dining through work with Women Chefs & Restauranteurs (WCR) and Chefs Collaborative 2000.
Pastry Chef • December 1996 to June 1998
Trained and managed staff of eight in production of all desserts and bread items for Jeremiah Tower's high-volume restaurant (275 seats) and cafe (125 seats). Provided both restaurant & cafe with weekly changing menus. Produced training materials for service staff. Produced all desserts for special events & catering, including wedding cakes. Responsible for: scheduling, food costing, inventory, daily quality control. Retained 90% of original staff over 23 months. Restaurant awarded Best Non-Hotel Restaurant 1997 by IS Magazine. Produced pastries for eight retail outlets operated by Spinelli Coffee Company. Trained a team of four in high volume production of items. Worked with contractor to design and build a satellite production bakery. Promoted Stars Restaurant & Cafe through HomeChef Culinary Academy as a course-instructor and in off-site demonstrations.
Pastry Assistant • December 1995 to November 1996
AM Production: Prepared house-made ice-creams and sorbets daily. Baked cookies, garnishes, custards, brioche, and tarts. Responsible for all complementing sauces and garnitures: chocolate and caramel-based sauces, coulis, compotes, fruit consommes, decorative caramel piping, spun sugar, candied fruits and nuts, chocolate cigarettes, etc. Made Savory Roquefort Souffle daily. Oversaw PM line: High-volume service of individually crafted; multi-component; intricately plated desserts. Prepared Aqua's signature dish: Savory Black Mussel Souffle daily. Prepared crepes, tuiles, sauces, petit fours, dessert souffles, and signature sampler platters for service.
Pastry Assistant • October 1995 to October 1996
AM Production: baked and assembled dessert items to souffle cakes, genoise and sponge cakes, brioche, tarts, custards, cookies, truffles. Produced complementing garnishes (chocolate work, sugar work, meringues) and sauces. High-volume service of individually crafted, multi-component, intricately plated desserts. Worked under Pastry Chef Donna Meadows.
Pastry Cook • July 1995 to October 1995
Opened Restaurant. Production of ice-creams, sorbets, mousses, cookies, truffles. Produced complementing garnishes: chocolate work, sugar work, meringues, tuiles, and sauces. High-volume service of individually crafted, multi-component, intricately plated desserts. Worked under Pastry Chef Donna Meadows.
Line Cook, Pastry Cook, Expediter • January 1994 to July 1995
Began as expediter for high-volume lunch service (300 covers) and dinner service (250 to 350 covers). Moved to PM Garde Manger: hot and cold appetizers, lunch saute, and pastry kitchen. Assisted with banquets and large parties.
A collection of chocolate confections designed by Chef Tina Luu. Contact her for current availability.
espresso | cocoa nib
For the true java addict, this ganache is infused with crushed espresso beans and spiked with a hit of espresso. Enrobed in bittersweet couverture chocolate and garnished with toasted cocoa nibs—take a journey to the dark side.
salted whiskey caramel | habenero chiles | cinnamon & vanilla
Inspired by Africa's lovely Amarula liquor, this unique blend of salty, sweet and spicy flavors will intrigue the palate with a lingering finish.
mexican canela | saigon cinnamon | milk chocolate
West meets East for the cinnamon purist. Mexican cinnamon is steeped into this creamy milk chocolate ganache which fills a dark chocolate timbale shell, while fresh grated Saigon cinnamon accents the top.
coconut | lemongrass | kaffir lime | crisped rice
Rich coconut with a hint of fragrant lemongrass and Kaffir lime leaf are paired with puffed rice crisps for textural dimension. All enrobed in dark chocolate.
honey butter toffee | crushed cashews
Handmade, buttery toffee squares are dipped in dark couverture chocolate and rolled in roasted and crushed cashews.
orange & bergamot almond marzipan
This chewy almond marzipan is delicately scented with orange and bergamot, dipped in tempered milk chocolate and garnished with a whole roasted almond.
pure chocolate truffle
This classic ganache, scented with just a hint of bourbon vanilla bean is hand-formed and dipped, then rolled in Valrhona dark cocoa—sometimes, the simplest things are the best!
lavender | Champagne | blueberry
Delicate blueberry and champagne meets the perfume of heady lavender in this milk chocolate confection.
mint leaf
Simple and pure—fresh mint in a hand-painted solid dark chocolate leaf.
disks of fruits & toasted nuts
Great textures and flavors come together in this candy. A crisp disk of tempered chocolate cradles chewy fruits like dried cranberries, apricots, pineapple and crunchy roasted nuts. Assorted.
the cHocolate studio product line will be constantly evolving and, of course, we will be creating specialty pieces inspired by the seasons. Please look for new offerings coming soon, such as our Spiced Caramelized Walnuts!
Each confection is about .50 to .75 ounce in weight.
US$48.00 per pound or $1.50 per piece.